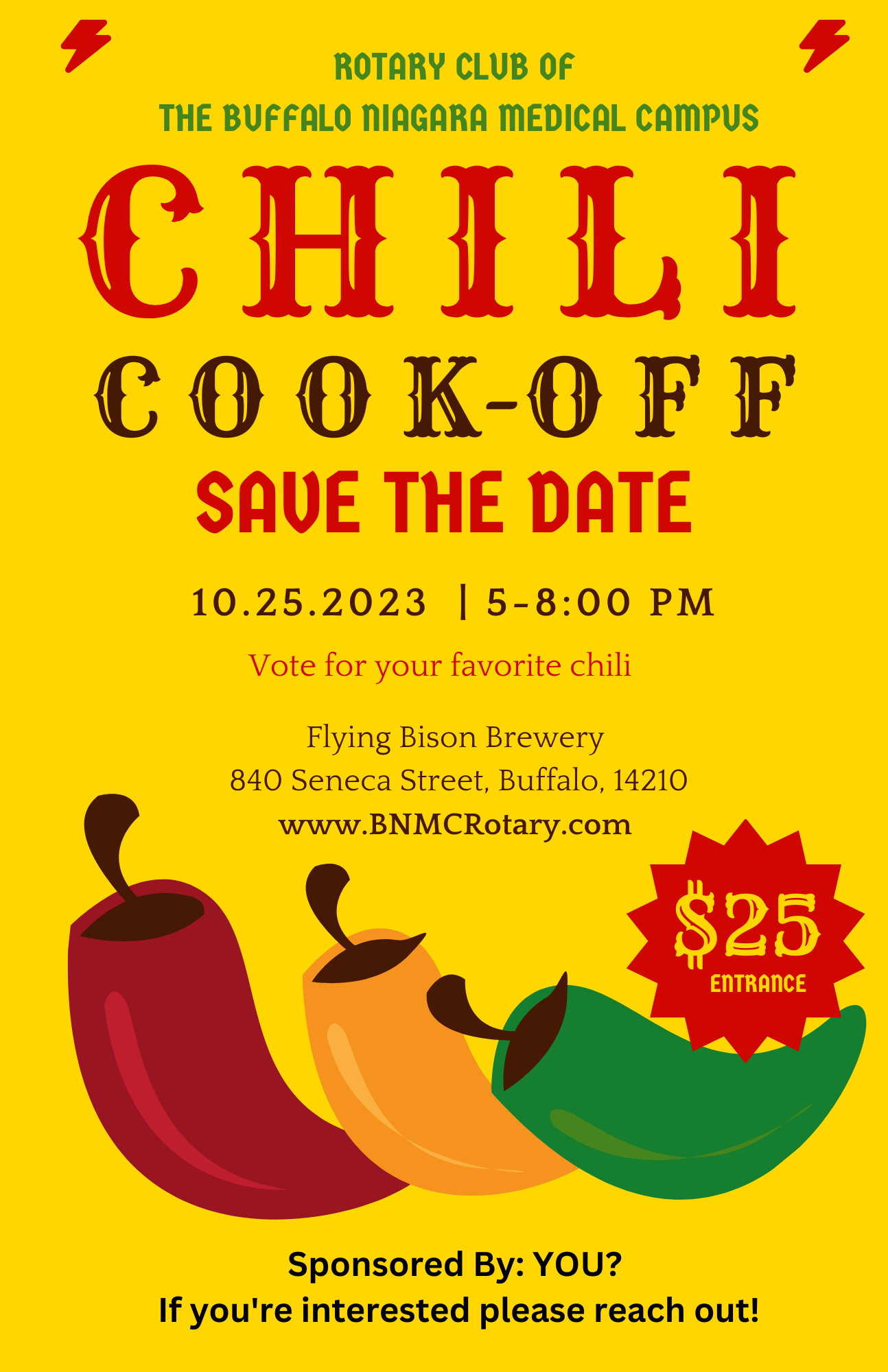 5th Annual Chili Cook Off
On October 25th, The Rotary Club of the Buffalo Niagara Medical Campus (BNMC) will host its 5th Annual Chili Cook-off at Flying Bison Brewery. 

Fundraisers such as this enable us to provide scholarships to students, grants to local not-for-profit organizations, and support the local community through various clean-up and service projects.
Please consider supporting our efforts by becoming a sponsor of our upcoming Chili Cook-off.  Sponsor opportunities include pre-event recognition, prominent signage at the event, as well as electronic advertising among our networks.  (District 7090 of Rotary spans the 8 WNY counties and Southern Ontario and is a network of area business people with thousands of contacts). 
You will receive great exposure to new markets and potential clients –all while supporting the efforts of the Rotary Club of the BNMC and great work being done in our community.
Click to Buy Tickets or Sponsorhips
HOW ARE THE FUNDS RAISED FROM THIS EVENT BEING USED IN OUR COMMUNITY?
Financial scholarship of $1,000 given to a local high school senior to pursue further education.
Pack N Plays provided to a local charity for their client needs.
Lending Library being installed on the Kevin Guest House campus on Ellicott Street.
Rotary helps maintain the Greenway Bike Path, down by Rotary Row at the the foot of Porter Avenue.  Rotarians gather to do cleanups.  We're looking into providing a bike fix-it station, complete with tools for bikers needing to fix a flat, or other minor repair during their ride.
The BNMC Rotary club provides one meal a month to all clients in Kevin Guest House in Buffalo.
Working with the businesses in the 800 block of Main Street on a beautification project, including planters and smoking butt depositories.
We have been sponsoring blood drives with UNYTS (Connect Life), a BNMC member.
We sponsored an Art competition at Health Sciences Charter School. 
We sponsored inbound Rotary Youth Exchange students from Taiwan, and Tasmania, and one that went outbound to Switzerland.  
We recently sponsored a student on short-term exchange to Belgium.
We planted trees at the Moot Center.
We help plant indigenous species around the lakes at UB, and along the Greenway Trail.
We are the sponsoring Club for UB Rotaract.